TAPAS TE1: Speech Pathologies and Therapies
by admin —
last modified
2022-04-27T15:20:43+02:00
Organized by NKI-AVL (Rob van Son), Radboud University (Helmer Strik), and Philips Research (Aki Härmä)
Watch the full conference webcast here:
More about the event:
When: Sep 24, 2018 to Sep 26, 2018
Where: Philips Research, auditorium, High Tech Campus 34, Eindhoven, Netherlands
Contact Name: Rob Son
Web: Visit external website
The event will start at 9:00 on Monday 24 September. On Wednesday 26 September, we will visit the Philips Experience Labs, High Tech Campus 33. That visit will end at 12:30.
The High Tech Campus is within 15 minutes from the center of Eindhoven, 20 minutes from the Eindhoven Airport or 2 hours travel from Amsterdam Airport. Most hotels are located at the center of Eindhoven.
Eindhoven Airport: https://www.eindhovenairport.nl/en
By Car: https://www.hightechcampus.com/contact/route-description
By Public Transport: https://www.hightechcampus.com/contact/transport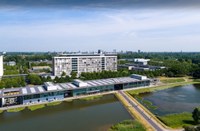 PROGRAM
Monday 24 September

8:00 - 8:50

Welcome with coffee and tea

8:50

Opening
 
 

9:00

Introduction to Phonetics and Speech, Rob van Son (Amsterdam)

9:45

Dysarthria, Marc de Bodt (Antwerp)

10:30

Break

11:00

Introduction to Hearing and Speech Perception, Armin Kohlrausch (Eindhoven)

11:45

Hearing Aids and Cochlear Implants, Stephanie Rühl (München)
 
 

12:30

Lunch
 
 

14:00

Children's speech: development, pathologies and processing, Alberto Abad (Lisbon)

14:45

Speech after Treatment for Head and Neck Cancers, Michiel van den Brekel (Amsterdam)

15:30

Break

16:00

Introduce yourself: ESRs 1-8

16:45

Closing
 

Evening: TAPAS Dinner (Time and Place to be announced)

 

Tuesday 25 September

 

9:00

Current diagnostic practices in neurodegenerative dementias, Dan Blackburn (Sheffield)

9:45

Speech and language decline in neurodegenerative diseases, Annalena Venneri (Sheffield)

10:30

Break

11:00

Speech therapy, Marc de Bodt (Antwerp)

11:45

eTherapy, Elmar Nöth (Erlangen-Nürnberg)
 
 

12:30

Lunch
 
 

14:00

Stuttering, Lottie Stipdonk (Rotterdam)

14:45

Assessment in speech disorders, Virginie Woisard (Toulouse)

15:30

Break

16:00

Introduce yourself: ESRs 9-15

16:45

Closing

Wednesday 26 September (Restricted to consortium members)


 

Site visit Philips Research

10-11
Introduction
11-12
Experience lab visit